17 Dec

ANDORRA SPORTS STARTUP CHALLENGE BY ACTUA AND GSIC SELECTS 10 FINALISTS AMONG THE STARTUP PROPOSALS FROM 18 COUNTRIES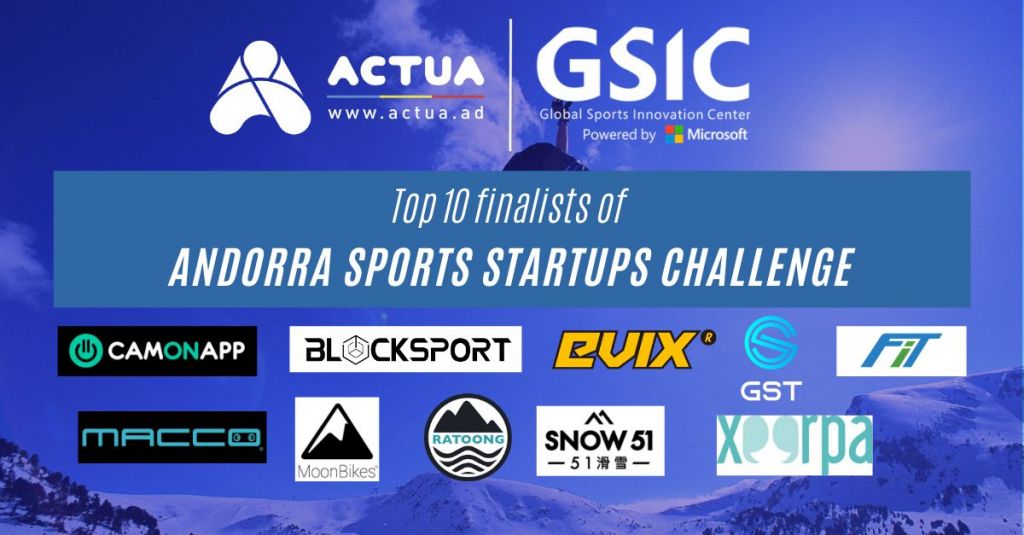 Invest in Andorra / Innovation Hub Andorra (Actua) and the Global Sports Innovation Center powered by Microsoft (GSIC), are pleased to announce the top 10 finalists of the Andorra Sports Startups Challenge, a project that seeks to identify the most disruptive solutions and latest technologies around the world through a startup contest to help improve the user experience and loyalty by seasonally adjusting the sports and tourism offer in Andorra.
Almost 70 companies from 18 countries applied to the process that was open from November 9 to December 18 to offer their solutions that apply, among others, to segmentation and personalization of content by target audience, optimization of the customer experience through combination and integration of digital and physical aspects, activation of sponsorship and content monetization. All this focused on winter sports, mountain sports and cycling.
The 10 finalists are: Blocksport (Switzerland), CamOnApp (Argentina), EVIX FIRM SL (Spain), Force Impact Technologies (FIT) (United States), Global Sport Technology (United Kingdom), Macco Robotics (Spain), MoonBikes Motors (France), Ratoong (Denmark), Snow51 (China), Xeerpa Marketing Solutions (Spain).
For the Minister of Presidency, Economy and Business of the Government of Andorra, and President of Actua, Jordi Gallardo, "The fact that we have received proposals from startups in more than 18 countries confirms the interest that the country generate in the field of sport and mountain. We are very satisfied not only with the large number of proposals received but also with their quality. The top three ranked startups, including the winner, will participate in different activities such as the Investors Day next March and in business meetings with members of our sports cluster, and they will be able to show their solutions at the Mountain Living Lab. We are convinced that their contributions will be very interesting for our country. Gallardo also added that "as a result of this initiative we are being contacted by companies interested in getting to know the country for possible implementations".
On January 27, a jury of 13 experts and professionals from the sports industry, as well as stakeholders and investors will evaluate the finalist solutions and define 1 winner and 2 special mentions. The jury is made up of leading professionals from different sectors linked to the industry such as Sebastian Lancestremere, Sports Industry Managing Director at Microsoft Corp., Jurg Capol, Marketing Director of International Ski Federation, David Hidalgo, CEO of Grandvalira, Iris Córdoba, General Manager of GSIC powered by Microsoft, Carlos Cantó, CEO of SPSG Consulting, Christoph Rapp, International Sales & Retail Manager at ISPO, Jordi Nadal, Director of Andorra Telecom, Ferran Martínez, Economic mbassador of Confederación Empresarial Andorrana, Gemma Riu, Cluster manager of Andorra Sports Cluster, Javier Guillen, General Manager of Unipublic, Judit Hidalgo, Director of Invest Andorra, Marc Pons, Director of Innovation Hub Andorra, Ignacio Martin, Director of Actinn.
The startup that will be announced as the winner of the competition, will receive a free GSIC membership for one year, a 3-month mentoring program with GSIC and experts in the field, the possibility of accessing the Microsoft for Startups program, where they will gain free access to Microsoft technology (credits and products in the cloud), a free one-year subscription to the Andorra Sports Cluster and a tourist package to visit Andorra. In addition, both the winner and the 2 special mentions will participate in different activities such as Investors Day in March 2021 and business meetings with members of the Andorra Sports Cluster, as well as the possibility of showing their solutions at the Mountain Living Lab in Andorra.
Iris Córdoba, General Manager of GISC, says that "The large number of participants from different regions ensure us a very competitive final where we will see varied solutions which will allow the jury to select the ones that best adapt to the main challenges of winter sports, mountain and cycling. It is a great opportunity for the finalists who will be able to compete to carry out pilots in Andorra and thus to position the Principality as a benchmark for its most representative sports."
The winner will be announced on February 3.
More info: https://andorrasportshub.com/